What you need to know for the year 2024
2nd Elite Stage and Competition
This is to invite you to the 2nd Elite Stage & Competition to be held in La Nucia (Alicante) Spain on January 11th-14th, 2024.
This event is open to all ITF Members from age 12 years old in possession of a blue belt and above and shall be divided for the 1st time at 3 international levels into:
Elite Sparring and Pattern seminars, trainings, social activity, "Elite" competition, and most of all a great time to share the passion we have for TAEKWON-DO ITF.
Elite master's Stage Technical training, social activity for instructor's 4th degree and above.
Color Belts Sparring and Pattern seminars, trainings, social activity, "Color Belts" competition, and most of all a great time to share the passion we have for TAEKWON-DO ITF.
Europe best and most well-known competitors as well as very well know coaches shall be the presenters at this event.
Arrivals during daytime (if possible before 16 hours) at the designated hotel
17.00 to 18.30 Seminar Training session 1
19.30 Dinner and Social Activity
Breakfast
10:30 to 12:30 Seminar Training Session 2
12:45 to 13:30 Social Activity
13:45 Lunch
15:15 to 17.15 Seminar Training Session 3
19.30 Dinner
10:30 to 12:30 Seminar Training Session 4
12:45 Lunch  – Special Paella
15:15 to 17.15 "ELITE" Competition
19.30 Dinner
23.00 Party – Penelope
Breakfast and departure or stay for a holiday

The event is Open from age 12 years and above and from blue belts and above.
Any ITF Member shall apply directly through their National organization to be inserted at the www.sportdata.org. Registration open from 1st may 2023.
AETF – ALL EUROPEAN TAEKWON-DO FEDERATION
The event will be coordinated by GM Wim Bos and Sabum Paco Ferrando.
The Spanish Federation of Taekwon-Do ITF will be the 2nd local Organizer to cooperate becoming a big success and motivational event for all participants.
The event shall be held in the Pabellón Muixara in La Nucia, and the following shall be arranged: 
Tatami mats
Big Video Screen, for presentations or Videos
Microphone
Water
Changing rooms and showers male and female if needed
Wi-Fi in the sports hall
Lunch at the venue
Sportdata Scoring System for the Competition and
Registration
Umpires to be present at the event
Coordinate awards for the competition
Special GIFT for all participants
Coordination Transfers from Alicante or Valencia
Airport to the Hotel.
Accommodation, Transportation & Other
The local organizer oversees a 4-star hotel  with a Half board accommodation (breakfast, and dinner) at € 225 per person 4 days/ 3 nighs in double room, and 315€ in a single room.(arrival start with dinner – departure after breakfast)
Breakfast and Dinner shall be provided in the Hotel. 
Lunch will be possible at the venue Restaurants 
The price also includes the daily transport Hotel/Sports Hall/Hotel.
The local organizer will support the expenses of photos and videos that will be shared amongst all.
All participants must stay in the designated hotel.
All participants shall receive a participation certificate.
Party Penelope included
NOTE: The event is only for active participants and the public without authorization will not be allowed.
For the accommodation you may remember that the deadline for your booking is 30 November 2023, but remember that the places are limited. The 50% of the accomodation has to be paid before 30 October 2023 the travel agency's bank account , and the second and full payment no later than December 5th 2023. The first pay first receive the confirmation. Places limited
Please send the email to [email protected] and attach the proof of payment and inform us your invoice details 
Bank account  Beniconnect Travel agency ES71 0182 1140 3302 0856 2650
——————————————————————————————————————————————————————————————
Registration of event paticipation on Sportdata from 25th April 2023 to 30th November 2023. Please remember that after your registration on sportdata you have to receive our confirmation, due the places are limited and we will use the the first book and register, the first we confirm. The participation fee can be paid inadvance or at your arrival.
Payment in advance to Federacion Española de TaekwonDo   ES77 0081 0554 8100 0174 2379, if you do the payment in advance please send us an email to [email protected] and send us the proof of payment 

COST: Participants shall cover their own expenses like travel and accommodation. Participants shall pay at their arrival the event participation fee 150€ 

Hopefully, you are ready to join us and become part of a new and motivated project for our Taekwon-Do ITF Athletes, we grow and move on together!
Coordinators GM Wim Bos & Sabum Paco Ferrando 
AETF President Master Leo Oros Duek message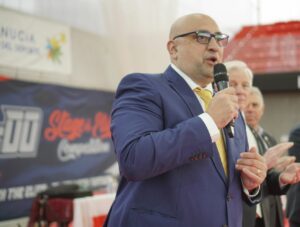 Dear AETF Members, I want to share with you this fantastic proposal that is the Stage and invite you to be part of this Taekwon-Do party. I want to personally thank GM Bos and Al Sbn Paco Ferrando for this wonderful initiative.
I would like to thank each of the instructors and the participants and their relatives because without them this would not be possible.
Moving forward together.
Master 
Leo Oros Duek
AETF President